I've been trying to figure out things to do with these 16 x 16 RGB LED matrix panels that I'm selling. These things are so bright (over 10,000 candela per square meter) I thought they would make an excellent DMX controlled RGB flood light. I was right, they're great for that, even if it under-utilizes the ability to access every individual pixel.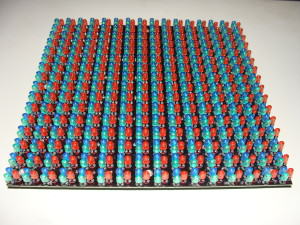 I had to pull a few things together for this and I did quite a bit of searching.  The first thing I knew I was going to need was a DMX master. After a bit of digging I found a page on Fritzing.org for an Arduino to DMX converter. This allows you to use an Arduino's FTDI FT232 driver as a DMX master.  It doesn't actually use any code in the Arduino it just connects some external components to the Rx pin on the Arduino. In order to make the FTDI FT232 chip communicate with the DMX control software I use later I also need to install the Open DMX FT232 driver (available under the 'drivers' list on the right) which supports the FTDI FT232 chip. I'm not sure which Arduinos use the FT232, but I know my Deumilanove does.
Since the DMX information is being delivered to the Rx pin of the Arduino in the above application, it's easy enough to set the Arduino up as a DMX slave as have an all in one single unit DMX setup and read the DMX data right off the Rx pin without building a real DMX interface.   Data flow is as follows: PC -> USB -> FT232 -> Arduino -> LED Panel. This type of setup will let you play with DMX software and a panel before deciding if you want to build a full blown DMX interface or buy some.
I also needed a DMX library for the Arduino. I used the Conceptinetics DMX  library which allows the Arduino to act as a master or slave device on a DMX network. They had a couple of examples and within a few minutes I had things up and running. The code is at the bottom of this post.
I  wrote the code for the LED panel as a 5 channel device.
There are 3 channels for Red, Green and Blue, one channel for Strobe and one channel for Intensity.  The values coming from the DMX master (my PC) are 0-255. I fed the RGB values into 3 Arduino PWM lines, the panel has 3 Output Enable lines, one each for Red, Green and Blue. PWM into these lines was originally used for global brightness control on the panels when used as a Matrix display, so this works just fine for color mixing.   The intensity value is mixed into the RGB level controls which gives 255 steps of brightness mixed with 255 steps of individual color channel control.
The strobe channel as well provides a value of 0-255, I just converted that into a non-blocking type delay as you can see in the code. The value directly represents a ###ms delay for strobe on/strobe off and controls the panel accordingly.  As a bonus you can continuously adjust the colors values and intensity seamlessly while the strobe effect is running.
One other duty to take care of was to make sure that all of the pixel drivers had their outputs turned on, since this is a matrix display panel and not just a light board, if we went through all of the above effort without actually turning the pixel outputs on, this would be extremely boring.  The LED panel is connected to the Arduino as described in the code below.  You can use different pin numbers, but the output enable lines must be tied together in pairs(OE R1 and R2, OE B1 and B2, Oe G1 and G2) and connected to three PWM lines.  This is taken care of by a 'color_wipe(1,1,1)' which runs a function I wrote to turn all pixels on.
With all that taken care of I need a DMX controller software for my PC.  There are a lot of options to choose from and they come in Mac and linux flavors as well so no one gets left out.  I went with on called Freestyler 512 which is free and comes with a Sound2Light plugin which is really awesome and a Fixture Creator (in the install directory) for laying out your own fixtures.
I installed the Open DMX driver before installing Freestyler 512, but it probably doesn't matter either way, you can change the Freestyler setup later. I pointed Freestyler at my FTDI FT232 adapter (Ardunio Duemilanove) for the DMX interface and off we went.  It took a few minutes to figure out how to add a fixture to the screen and then start controlling it but before long I was sending out command, changing colors, strobe and everything else.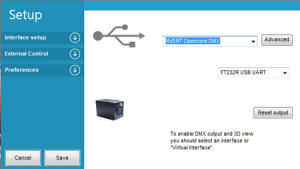 I created a fixture file for the LED panel as setup in the code below, if you would like to use it, you can download it here:
Unzip the file and copy LED Panel.fxt and LED Panel.gif into the Freestyle 'Fixtures' sub-directory, you can now add this panel as a fixture in Freestyler! (Setup -> Add/Remove Fixtures -> Generic -> LED Panel) When you add the fixture make sure you check the box to enable sound control!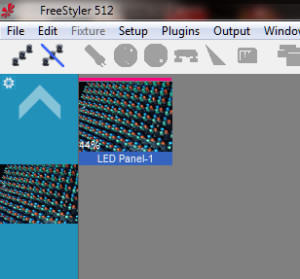 If you double click on the panel a bunch of sliders, one for each channel of the device will pop up on the screen and you can experiment with sending commands to the LED panel.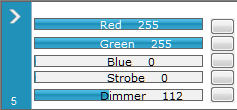 Or you can use the color picker if you want, the color picker updates on the fly so swiping your mouse across the color picker looks pretty sweet!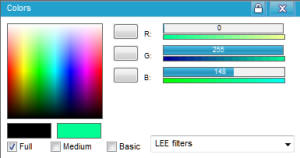 Here's a little video I shot using the Sound2Light feature of Freestyler and also setting up a simple sequence it's not too hard to setup and looks great. It's pretty much just some music with the panel lighting up my ceiling and showing the interface running.
The Arduino code:
1

2

3

4

5

6

7

8

9

10

11

12

13

14

15

16

17

18

19

20

21

22

23

24

25

26

27

28

29

30

31

32

33

34

35

36

37

38

39

40

41

42

43

44

45

46

47

48

49

50

51

52

53

54

55

56

57

58

59

60

61

62

63

64

65

66

67

68

69

70

71

72

73

74

75

76

77

78

79

80

81

82

83

84

85

86

87

88

89

90

91

92

93

94

95

96

97

98

99

100

101

102

103

104

105

106

107

108

109

110

111

112

113

114

115

116

117

118

119

120

121

122

123

124

125

126

127

128

129

130

131

132

133

134

135

136

137

138

139

140

141

142

143

144

145

146

147

148

149

150

151

152

153

154

155

156

157

158

159

160

161

162

163

164

165

166

167

168

169

170

171

172

173

174

175

176

177

178

179

180

181

182

183

184

185

186

187

188

189

190

191

192

193

194

195

196

197

198

199

200

201

202

203

204

205

// This is just a simple DMX interface to the 16x16 LED Panel Matrix

// I incorporate the Conceptinetics DMX Library to handle the DMX stuff

// And modified some of my existing code for the LED panel

// I really suggest placing some current limiting resistors between the Arduino

// and the LED panel input lines, something around 160 ohms to 180 ohms should be fine.

// Especially consider this if your VLED and VCC on the LED panel use the same PSU!

// Include the Conceptinetics DMX Library

#include <Conceptinetics.h>

// How many channels is our DMX slave?

DMX

_

Slave

dmx

_

slave

(

SLAVE

_

CHANNELS

)

;

#define INTENSITY_CHANNEL 5

int

datar1

=

2

;

// Data Pin for Red Serial Data

int

datag1

=

3

;

// Data Pin for Green Serial Data

int

datab1

=

4

;

// Data Pin for Blue Serial Data

int

datar2

=

5

;

// Data Pin for Red Serial Data

int

datag2

=

6

;

// Data Pin for Green Serial Data

int

datab2

=

7

;

// Data Pin for Blue Serial Data

int

clock

=

8

;

// Clock pin

int

le

=

12

;

// Latch Enable Pin

// Output Enable pins use on PWM pins for PWM dimming

// Set Default Brightness

int

rbright

=

255

;

// Brightness if using PWM (255 = off, 128 = half, 0 = full)

int

bbright

=

255

;

// Brightness if using PWM (255 = off, 128 = half, 0 = full)

int

gbright

=

255

;

// Brightness if using PWM (255 = off, 128 = half, 0 = full)

int

num_pixels

=

256

;

// Number of pixels (256 = 1 panel)

// Variables to store DMX R, G and B Channel values

int

DMXr

=

250

;

// DMX Red Value

int

DMXg

=

250

;

// DMX Green Value

int

DMXb

=

250

;

// DMX Blue Value

int

DMXintensity

=

0

;

// Diming from DMX

int

DMXstrobe

=

0

;

// Strobe value from DMX

// Places to store old values

int

flag

=

0

;

// flag for strobe

unsigned

long

timer

=

0

;

// timer for strobe

// Enable DMX slave interface and start recording

// Set start address to 1, this is also the default setting

// You can change this address at any time during the program

dmx_slave

.

setStartAddress

(

1

)

;

// Set all the pins we're using as outputs

// Set clock and latch enable(le) low to start with

digitalWrite

(

clock

,

LOW

)

;

// In order to fiddle with the pixels colors we actually need to turn

// the pixels on first. This command takes care of that.

// Read in the values from the DMX Master

DMXintensity

=

dmx_slave

.

getChannelValue

(

INTENSITY

_

CHANNEL

)

;

DMXstrobe

=

dmx_slave

.

getChannelValue

(

STROBE

_

CHANNEL

)

;

DMXr

=

dmx_slave

.

getChannelValue

(

RED

_

CHANNEL

)

;

DMXg

=

dmx_slave

.

getChannelValue

(

GREEN

_

CHANNEL

)

;

DMXb

=

dmx_slave

.

getChannelValue

(

BLUE

_

CHANNEL

)

;

if

(

DMXstrobe

)

// If the strobe channel value is greater than 0 we're in strobe mode

else

// Otherwise we just do a standard update

// If the current milliseconds run time is equal or greater to the

// previously recorded value, we toggle the strobe

if

(

millis

(

)

-

timer

>=

DMXstrobe

)

if

(

flag

==

0

)

// Strobe flag is 0 so we turn off all the lights.

// Set all panels PWM to 255 (inverse of 0, since the input is inverted on the LED driver chips)

else

// The strobe flag is 1, so we return the lights to their previous setting

update

(

)

;

// Run the normal update routine to set the lights to the current values

timer

=

millis

(

)

;

// Set the current program run timer as now

// Update takes the values from for RGB and Intensity received from the

// DMX controller and converts those to PWM values for the LED panel.

DMXintensity

=

map

(

DMXintensity

,

0

,

255

,

255

,

0

)

;

DMXr

=

map

(

DMXr

,

0

,

255

,

255

,

DMXintensity

)

;

DMXg

=

map

(

DMXg

,

0

,

255

,

255

,

DMXintensity

)

;

DMXb

=

map

(

DMXb

,

0

,

255

,

255

,

DMXintensity

)

;

// Wipes the display with the selected color

// example for white. It clocks in all of the pixels

// before latching the data.

void

Color_Wipe

(

int

r_value

,

int

g_value

,

int

b_value

)

// Clock in all pixels with fixed color

// Pixels are not updated on the panel until data is latched below

for

(

int

count

=

0

;

count

<

num_pixels

;

count

++

)

// We're going to clock in a pixel with each loop, we need to clock the data into

// the Red, Green and Blue Data lines individually

// The clock line is currently low

digitalWrite

(

datar1

,

r_value

)

;

// Color_Wipe(1,*,*) we write a 1, if Color_Wipe(0,*,*) we write a 0

digitalWrite

(

datag1

,

g_value

)

;

// Color_Wipe(*,1,*) we write a 1, if Color_Wipe(*,0,*) we write a 0

digitalWrite

(

datab1

,

b_value

)

;

// Color_Wipe(*,*,1) we write a 1, if Color_Wipe(*,*,0) we write a 0

digitalWrite

(

datar2

,

r_value

)

;

// Color_Wipe(1,*,*) we write a 1, if Color_Wipe(0,*,*) we write a 0

digitalWrite

(

datag2

,

g_value

)

;

// Color_Wipe(*,1,*) we write a 1, if Color_Wipe(*,0,*) we write a 0

digitalWrite

(

datab2

,

b_value

)

;

// Color_Wipe(*,*,1) we write a 1, if Color_Wipe(*,*,0) we write a 0

// Now we raise the clock high to clock in the data above

digitalWrite

(

clock

,

HIGH

)

;

// To finish clocking in the data, the chip datasheets says to bring the data lines low

// then set the clock low, so we'll bring the data lines low.....

// Complete the cycle by setting the clock low

digitalWrite

(

clock

,

LOW

)

;

// A bit has now been shifted into the 6 RGB channels, we're setting the pixels

// all to the same color, so this for loop will run (num_pixels) times beforef

// with the (numpixels) clocked into the panel(s) we now need to latch the data

// into the LED driver registers. Simple task.

digitalWrite

(

le

,

HIGH

)

;

// Latch in 256 pixel data set